How to Use SEO As a Freelance Writer
If you want to be a freelance writer, copywriter, blog writer or just about any other writer who has published content on the Internet, you've got to keep reading to learn how to use SEO.
SEO isn't just some trendy buzzword that techies use to sound impressive.
It's an entire strategy that has made individuals millions of dollars.
That statement is completely truthful – I used to write for a guy who was pretty much the name and face of SEO back in the day, and he made millions with several different companies by knowing how to use SEO strategies most hadn't heard of yet.
SEO can also be a pain in the butt to figure out when you're just getting started.
That's why I'm here to help you understand what SEO is, why you need it and how to implement it in your writing.
What is SEO?
If you've never heard of SEO before, it stands for Search Engine Optimization. Search engines like Google use fancy algorithms to deliver results to you based on what you type into the search bar.
SEO can be pretty complicated, not to mention the fact that Google changes the algorithms every few years. This sends a lot of people into a panic, moves them from the first page on Google to page 4 (Hint*no one looks at anything past page 1).
Google uses over 200 different determining factors to find the best results for you.
We are NOT going to go over those factors.
You're welcome.
What I'm going to do is break it down as best I can so you know how to use SEO when you write a page of copy.
Be Specific
When you pull up your favorite search engine and you're looking for a pair of red suede boots, you don't type in "boots" hoping Google can read your mind on the red suede part.
Type in "suede boots" and you'll get a ton of black boots and an assortment of other colors. A few may be red, but you'll have to search through a lot of boots to find the perfect red pair.
Now type in "red suede boots" and you'll get lots and lots of red suede boots, which is exactly what you want. Be even more specific and type in "red suede ankle booties" and that'll narrow your results even more. You'll still see hundreds of results, but the top few will lead you directly to those red booties. Other search results may lead you to a shoe site with suede ankle booties, or red boots, but may not be specific as you want.
Google is smart enough to take the terms in your search and match them across kajillions of sites on the Internet to bring you the best results possible.
That's how to use SEO in your favor.
Use those specific keywords on your page of content, whether it's a blog post, article, product description or web page, and it'll catch Google's attention as a good resource for people searching for that particular term.

What Your Client Needs
When you are starting a project for a client, like a blog post, you need to be specific. In most cases, the client will already have their SEO research done by someone else. They'll give you the assignment and tell you the key phrase they want included. This is great because you've got your key phrase and topic. All you have to do is write.
If they don't give you any SEO phrases or words, you'll have to do some research. This should be included in your billing for the project! SEO research can take some time, depending on the market, topic and key words used. You should be paid for your time doing research.
Your client should give you an idea or topic, even if they don't have any SEO research done. It's a little more difficult if they want you to come up with the whole thing, but you can do it. (This is why it's important to choose a niche that you enjoy or have experience in!)
Say you're writing a blog post in the pet industry. Your client is a small pet product company that sells collars, leashes, dog sweaters, etc. They want you to write a blog post that'll get them ranked high in Google, but they aren't sure what the topic should be.
First, take a look at their website.
What's unique about them?
What do they offer that others don't?
What is their best-selling product?
The worst?
What do they want to sell the most of?
Do they have any new products coming out that you could showcase?
Now, take a look at their competitors. Try searching products that your client sells in Google. If your client is nowhere to be found on Google, they need a major SEO overhaul on all of their product pages – that could be a good suggestion (and a lot of work future for you!).
A good blog post to get them started would be on a popular product that sells well for them. This can bring more traffic to their site as well. If glitter cat collars are the hot seller, create your blog post about cat collars. It shouldn't be solely focused on the glitter cat collar phrase. Google that phrase to see what comes up. If there aren't many sites that come up with specific results for glitter cat collars, that's good because that means you can easily get your blog post ranked high.
But……
The problem with a low number of results may mean that no one is searching for glitter cat collars! This is a big problem. You want to rank high, but you also want enough people to be looking for these collars. You'll have to do a little more research on this to see what's going on.
There are lots of paid and free search tools you can use for this. Google Adwords Keyword planner is great and free. I also use KWFinder. It's easy to use and shows you results in an easy to read graphic. When you're learning how to use SEO, these planners are a necessity.
Here are the results for glitter cat collars.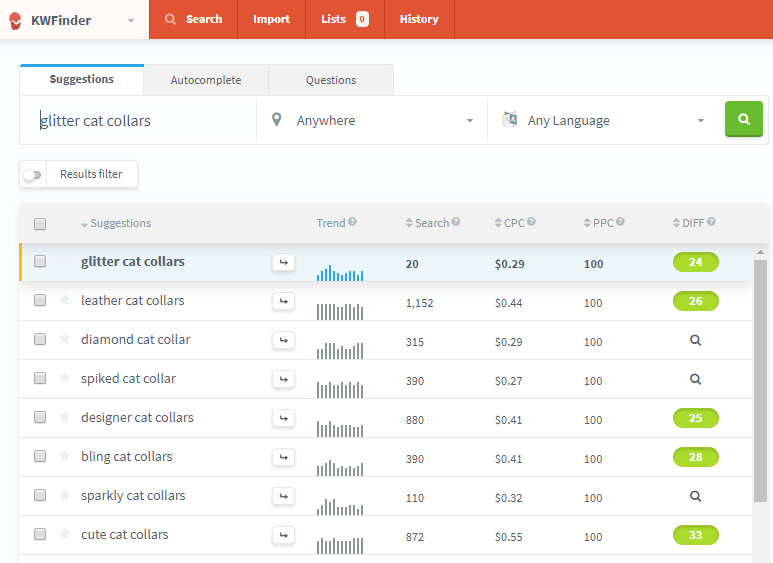 As you can see, this phrase is only searched about 20 times per month. That means you do not want this to be your only key phrase in this blog post. "Cat collars" by itself already ranks very high, so that will help, but you need other long tail key phrases in there to be able to rank higher.
You can see "designer cat collars" and "fancy cat collars" both have over 880 searches per month. You can include these two phrases in your blog post a time or two and it will help with ranking the blog post in Google.
Use your key phrase and other phrases several times in the post.
And by several times, I DO NOT mean write the post and randomly stick the phrases in where you think they'll sound okay. That's called keyword stuffing and is not cool. If you learn one thing about how to use SEO, know that keyword stuffing makes your content sound like junk. It can also hurt your search results because Google has cracked down on keyword stuffing.
Keyword Density
Density is the mathematical way of figuring how how many times you can use a keyword or phrase in your content. I hate math, so I'd like to skip this part, but it's important. And it's pretty easy.
Write your content and then count how many times you used your keyword. Say you used it 8 times. Look at your word count. Say you wrote 500 words. So you pull up the calculator and do 8 divided by 500, then multiply it by 100. Your answer shows 1.6, which is perfect.
As of now, (I say this because the Google algorithms change every once in a while) the perfect keyword density score is anywhere between .05 and 2.5. Any lower than this and it'll be like you didn't use any keywords at all. Any higher and it's considered keyword stuffing.
Keywords and phrases have to be organically written, like when they'd naturally come up in the conversation. If you've ever heard of organic SEO, that's is what it means.
A good way to check this is after writing the post, read it out loud to yourself or someone else. If it seems awkward or weird, take the phrases out and use them elsewhere. You want to write quality posts, not keyword-stuffed content that sounds like junk.
Places to Put Keywords
Along with having your keywords and phrases in the post, you need to have at least one in the title of your post. "The New Glittery Designer Cat Collars That'll Make Your Cat Meow" would be a good way to use a high-ranking phrase in the title (I'm obviously sleep-deprived and without coffee because that's a terrible title, but it works for the example here #donthate).
You'll also need to place keywords in other places on the page.
In your blog post, don't write a title and then one long post of plain paragraphs. Break the post up into sections starting with the heading (the h1 tag) and then subheadings (h2 tags) and possibly more subheadings (h3 tags).
Your key phrase should definitely be in the main title/heading of your content. It should also appear in the first sentence, a few times throughout the body of the content and then again in the last paragraph.
You'll also need to put keywords in your meta info. This is the small little paragraph that shows in the Google search. The keywords and phrase should be in the title, which should be in the link that shows on Google, and then in the meta info, which shows under the title on Google. This doesn't even have to show on your actual page, but it counts when Google crawls your site to see how relative it is to search results. If you use WordPress, this is easy to add to your blog post by using an SEO plugin.
If all of this seems overwhelming, it's okay! You'll get it. Once you figure out how to use SEO in your content, it'll become second nature.

Internal and External Linking
Another important thing to do for high ranking search results is to add links to your content from the same website.
Going back to the cat collars, when you write the post about glittery cat collars, you should (organically) mention other types of collars or some other product that these cat owners would be interested in and link them to your post. If your client sells cat toys, have a link to a specific cat toy or the main cat toy page on their site. This is called internal linking. Having at least two internal links is really good.
Including a good external link is great too, but isn't always possible when your client doesn't want to lead customers to other sites. If you are able to use an external link, make sure the site you link to has great quality and ranks pretty well by itself.
Now You Know How to Use SEO
If you implement all of these steps in your content, you'll get good results. Google results, that is. If this is all over your head, if you need further explanation or just need some pointers, send me an email. I'll be glad to help.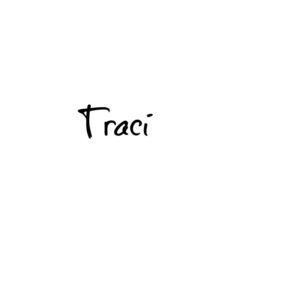 Take the FREE Course!
Join the FREE 7 Day Crash Course to Freelance Writing Success!